Bierton with Broughton Parish Council
39 Great Lane, Bierton, Aylesbury, Buckinghamshire, HP22 5DE
07932 738733 – parishclerk@biertonvillage.org.uk
---

---
Latest News
Thursday 20th February 2020 
A418 Traffic Delays in Bierton
Contractors working on the new junction for Aylesbury's Eastern Link Road say that temporary traffic lights will need to be in place 24 hours a day for three weeks from Monday 17 February to complete the works.
The A418 Aylesbury Road junction at Bierton and the northern section of the link road are being constructed by Barratt/David Wilson Homes as part of the new Kingsbrook housing development.
The developers have requested an extension to their permit to allow temporary lights to remain 24 hours a day, along with two overnight closures. They say unforseen circumstances have made it impossible for their contractors, ECL Civil Engineering, to complete the work without extending traffic control.
The 24 hour temporary lights will be manually operated, to balance traffic flows and minimise congestion, from Monday 17 February to Monday 9 March. The two overnight closures will run from 7pm on Friday 20 March to 5am on Saturday 21 March, and again from 7pm on the Saturday to 5am on Sunday 22 March. An alternative route will be signed.
Mark Shaw, Buckinghamshire County Council Deputy Leader and Transport Cabinet Member said: "Very reluctantly, we've agreed to the request from Barratt's contractors, to enable them to finish the job. I do appreciate this will inconvenience drivers, and I apologise for this, and we've stipulated one of those weeks must fall within the half-term holiday to minimise the impact.
"We're expecting contractors to be working continuously, to make best use of the time,  and our highways officers will be monitoring the situation closely."
Jo Alden, Technical Director at Barratt and David Wilson Homes North Thames, said: "We would like to apologise to all those that may be affected by this change and offer our assurance that when in operation, the traffic signals will be permanently manned in order to minimise the disruption caused."
Prior to the two night closures, letters will be delivered to residents of Rowsham Lane and Hulcott Lane detailing the work, the traffic management arrangements, and from which direction to get to and from their homes.
---
Tuesday 18th February 2020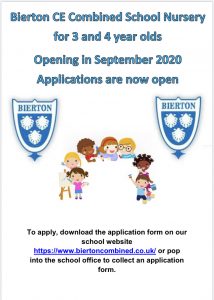 Monday 10th February 2020
Upcoming Local Election Information
Please see below for some important information regarding the upcoming local elections that are scheduled to take place in May;
If you have any questions, please contact a member of the Parish Council for further information.
---
T

hursday 16th January 2020  

                                                                   Brain of Bierton 2020 
Our Brain of Bierton quiz evening is back for 2020 and promises to be another fantastic evening. Taking place on Saturday 14th March at Jubilee Hall, entry is £12 per person and includes a 2 course meal.
There will be prizes for the winners as well as a raffle. At least 50% of profits made will be donated to Bierton Pre-School.
To enter, please download and complete the entry form. All payment information can be found on the form.
Brain of Bierton 2020 Entry Form
---
Tuesday 3rd December 2019

                                                                 

Website Maintenance 
We have been experiencing some website issues over the past month or so and as such, will be undetaking some routine maintenance on the website over the next couple of weeks to ensure it is back up and running before Christmas.
If you require any documents or information that you would normally obtain from the village website that you cannot find, please contact Mark Grieves (mark.c.grieves@gmail.com or 01296 296 404).
---