Bierton Parish Council
10 Leighton Road, Wingrave, Buckinghamshire, HP22 4PA
07932 738733 – parishclerk@biertonvillage.org.uk
---

---
Latest News
Saturday 7th November 2020  
Neighbourhood Plan Pre Submission Consultation
The Neighbourhood Plan group have now reached the Regulation 14 stage of the neighbourhood planning process. Information on how to view or comment on the draft Neighbourhood Plan can be found on the flyer below.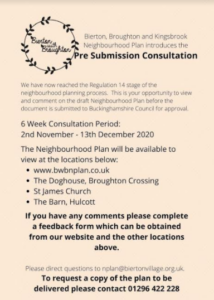 ---
Wednesday 4th November 2020  
Community Support During Second National Lockdown
If you know anyone, or you yourself, require any support during the Second National Lockdown which starts tomorrow, please contact Gemma or Dan on the numbers below.
There is a large group of volunteers within the village that are more than happy to help.
---
Friday 2nd October 2020   
Bierton Running Event 2020

---
Thursday 15th October 2020        
CALL FOR VOLUNTEERS! Bierton Christmas Float 2020
Bierton Events Group are currently organizing a Santa float to tour the village this December on Saturday 12th December and Sunday 13th December.
The float will visit one half of the village on the Saturday and the other half on the Sunday, from approximately 5:30pm until 7pm.
Bierton Events Group are on the look out for volunteers who can help out in the following areas. If you are able to help out with any of the below, please contact biertonevents@gmail.com or join the Facebook group 'Bierton Christmas Float 2020'
Source materials and build the float structure

Decorate the structure and trailer, sourcing the materials to do so

Collectors on the night (For either one or both nights)
---
Friday 17th April 2020  
Bierton Bus Stop Library
We would like to remind residents that whilst the ongoing restrictions are in place to help ease the spread of Coronavirus during the current pandemic, the Bus Stop Library is closed, as per government guidelines.
If residents could please refrain from leaving any unwanted books at the bus stop during this time it would be appreciated.
Once the current restrictions are in place, we will look at reopening the library as soon as possible!
---
Monday 6th April 2020                                                                                                                                                 

The Mike & Claire Griffin Charitable Trust – Bierton & Hulcott Coronavirus Hardship Fund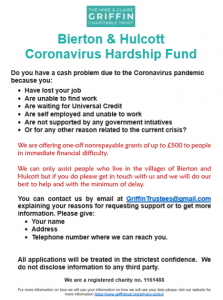 ---
Friday 20th March 2020  
2020 Local Elections and Parish Council Elections Update
As you may be aware, all local elections have now been postponed until May 2021 due to the Coronavirus Pandemic. This includes the new Buckinghamshire Council which will continue from the 1st April with the shadow cabinet and the current councillors.
At the time of writing this, we do not know whether Kingsbrook or Broughton Hamlet will remain with Bierton Parish Council or go on their own as planned. It could be difficult with no elections.
We will keep you updated and ask for your patience and understanding at this time.