Bierton Parish Council
10 Leighton Road, Wingrave, Buckinghamshire, HP22 4PA
07932 738733 – parishclerk@biertonvillage.org.uk
---

---
Latest News
Friday 2nd October 2020   
Bierton Running Event 2020

To enter the race, please use the entry button below;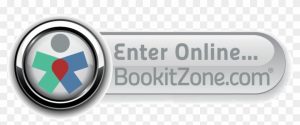 ---
Thursday 1st October 2020        
CALL FOR VOLUNTEERS! Bierton Christmas Float 2020
Bierton Events Group are currently organizing a Santa float to tour the village this December on Saturday 12th December and Sunday 13th December.
The float will visit one half of the village on the Saturday and the other half on the Sunday, from approximately 5:30pm until 7pm.
Bierton Events Group are on the look out for volunteers who can help out in the following areas. If you are able to help out with any of the below, please contact biertonevents@gmail.com or join the Facebook group 'Bierton Christmas Float 2020'
Source materials and build the float structure

Decorate the structure and trailer, sourcing the materials to do so

Collectors on the night (For either one or both nights)
---
Saturday 4th July 2020  
Parish Council Vacancies
Following on from the recent resignations of both Councillor Brian Robson and Councillor Geoff Sherley, there are now two vacancies on Bierton Parish Council. Please see the below notices.
If you would like any information on becoming a councillor, then please email parishclerk@biertonvillage.org.uk
---
Saturday 4th July 2020 
Playground Reopening
In line with the government annoucement for playgrounds to reopen on the 4th July 2020, please use the playground whilst following the guidelines set out below;
Playgorund reopening guidelines Covid 19 June 2020
These guidelines are here to help prevent the spread of Coronavirus. Bierton Parish Council ask that you follow these guidelines to help keep everyone safe.
---
F
riday 12th June 2020 
Work on Footway at Burcott Lane
We are pleased to advise that work will commence on a new section of footway on Burcott Lane on Monday 15th June. This is to join up the new section from Muddy Lane to the existing one in Burcott Lane. This will enable residents to walk to school and to the pre-school more easily.
There will be two-way, manually controlled, off peak traffic lights whilst the work is in progress, which is expected to take up to four weeks to complete.
The project is three-way funded by the Greater Aylesbury Local Area Forum, Barratts and the Parish Council, with a contribution from the Mike & Claire Griffin Trust too.
We apologize for any inconvenience while the work is in progress, but think you will agree that it will be well worth it in the long run.
---
Tuesday 9th June 2020  
Bierton Parish Council Meeting
The Parish Council will be meeting virtually next Monday, 15th June at 7pm via a Zoom meeting. The public will be able to attend the meeting. The link for the zoom meeting can be found on the meeting agenda on the link below; 
---
Thursday 28th May 2020  
A Message from Will Gadsby, Acting Headteacher at Bierton School
Bierton School will be opening for Reception, Year 1 and Year 6 from Monday 1st June.
Parents can drop off anytime between 8:30am and 9:15am and pick up anytime between 2:45pm and 3:30pm. 
We have requested that parents walk to school down Parsons Lane (school side of the road) and when walking away from the school, cross over and use the other side of the road.
Jubilee Hall car park will be available for a small number of cars at each end of the day.
---
Sunday 24th May 2020  
An updated from Rev Dan Beesley at St James Church Update
Currently, the national church recommendations are that all public places of worship services will not be held in their current format.
We, at St James, are working on creative ways of still being a church together.
At this time, lets pray for one another and look out for one another, remembering that the church is not the building but the people. 
We will continue to be there for those that most need us at this difficult time.
Our prayers and blessings to you all.
Rev Dan (Vicar at St James, Bierton)
St James Website                                                                                                                                          St James Facebook Page                                                                                                                               St James Twitter Page
---
Thursday 30th April 2020  
Green Waste Collections To Restart and Waste Sites Stand Ready To Open
Buckinghamshire Council will restart green waste collections across the county from 11 May and also stand ready to open five of its nine household waste sites as soon as the Government gives the green light nationally.
The moves to help residents across the county deal with their additional waste were announced at Cabinet today (30 April) by Bill Chapple OBE, Cabinet Member for Environment and Climate Change.
Today's announcement follows the closedown of both areas at the start of the coronavirus outbreak due to government guidance, as well as staff shortages due to sickness and those needing to self-isolate. However Bill Chapple said things had improved sufficiently to reinstate the two services.
"Coronavirus has had a massive impact on all our waste services but waste teams from across the county have worked tremendously hard to prioritise collections and keep waste and recycling bin collections going. However, we're now fighting back and it's my intention to get services operating somewhere close to normality wherever I can, subject to current conditions continuing.
"Bringing back green waste collections will really help residents tend to their gardens during the lockdown. I know collection crews will be working hard particularly on the initial rounds, so could I ask residents to be considerate and avoid over-filling bins or putting additional garden waste out alongside."
Residents' normal garden bin collection days will stay the same but the Council advises checking their website first just to make sure nothing has changed. Collection times may however change, so residents are asked to put bins out by 6.30am. In addition, no subscribers will be out of pocket while green waste hasn't been collected as contract extensions or reduced priced renewals are being introduced. The Council will also be reinstating its bulky waste collection service across the county.
Bill continued, "To allow residents to dispose of other essential rubbish that might be harmful to store, we've also been working behind the scenes to prepare five of our most suitable household waste sites for reopening. These sites are at Amersham, Aston Clinton, Beaconsfield, Buckingham and High Heavens in High Wycombe and are best able to deal with queuing vehicles.
"We're now just waiting for the Government's final authorisation to open and this is expected within the next couple of weeks.
"That said, sites will look and operate differently to comply with strict social distancing requirements. We'll be adopting a 'supermarket style' of operation with strict controls on the number of people entering the site at any one time and marked off areas to maintain two metre gaps.
"As soon as we get the green light, we'll publish more detailed guidance on when these sites will reopen and how they will operate so residents can be absolutely clear on what they need to do.
"It's been a concerted effort from the whole waste team to find the best ways to reintroduce services given the extraordinary times we're in and I really hope it will provide some much-needed help for local residents going forward."
For more information, please visit www.buckinghamshire.gov.uk
---
Friday 17th April 2020  
Bierton Bus Stop Library
We would like to remind residents that whilst the ongoing restrictions are in place to help ease the spread of Coronavirus during the current pandemic, the Bus Stop Library is closed, as per government guidelines.
If residents could please refrain from leaving any unwanted books at the bus stop during this time it would be appreciated.
Once the current restrictions are in place, we will look at reopening the library as soon as possible!
---
Monday 6th April 2020                                                                                                                                         

The Mike & Claire Griffin Charitable Trust – Bierton & Hulcott Coronavirus Hardship Fund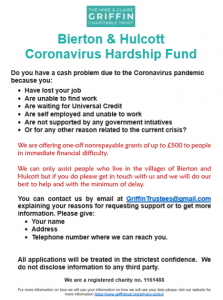 ---
Thursday 2nd April 2020
Coronavirus Pandemic Support
The community support group have been approached by several organisations who are offering help, financial and practical advice etc, to families or individuals experiencing difficulties due to the Coronavirus Pandemic.
Please contact one of the following people if you think you may need some help and they will be able to put you in touch wit the relevant people. Please keep an eye on neighbours who may not have internet access and pass on the contact details.
Dan (St. James vicar) – 07872 160 247                                                                                                  Sheila (Parish Council Chairwoman) – 07725 471 943                                                                  Gemma (Local resident) – 07879 634 720
There are some helpful links below that maybe useful, to see if you are eligible;
https://www.gov.uk/coronavirus-extremely-vulnerable
https://www.buckinghamshire.gov.uk/coronavirus/service-changes/free-school-meal-voucher-scheme/
 https://www.buckinghamshire.gov.uk/coronavirus/
https://www.gov.uk/coronavirus
At this time, can we ask that everyone does their best to look out for, help and support others. Ask your neighbours if they need anything. A shout over a fence or a phone call would be appreciated by so many.
We would like to thank everyone for all their support and kindness that is spreading throughout the village, we are showing a lovely united front!
We look forward to hearing lots of clapping again this evening at 8pm for all of our key workers who are on the front line fighting against this awful virus.
Please stay at home wherever possible. Stay safe and healthy.
---
Tuesday 24th March 2020  
Village Update in Response to the Prime Ministers Coronavirus Update
Following the Prime Ministers announcement last night and the new measures taken to combat the Coronavirus pandemic, the childrens playground on the recreation ground will be closed with immediate effect.
Both the Sports Centre and Jubilee Hall will remain closed, however the recreation ground will remain open and accessible for exercise purposes only. Unfortunately the new Community Library, located at the bus stop opposite the Red Lion pub has also been closed to help stop the potential spread of the virus. The library will be reinstated once we are allowed to do so.
Parish Council meetings have also been postponed for the next 12 weeks. The annual meeting of the council has also postponed and a new date will be advised in line with government advice.
On a more positive note, there seems to be many rainbows popping in windows around the village as a sign of hope. Please do join in! If you have any other  on how a little bit of joy can be spread amongst the community at this time then please dont hesitate to share your ideas. We would also like to thank those helping others in community at this time.
Please follow governmental advice. Stay at home wherever possible. Only shop for essential food items and medicines when necessary and as infrequently as possible. Whilst one form of exercise is permitted a day, please ensure any exercise is done alone or with those in your household only.
 The Parish Council send their best wishes to all Parishioners. Stay safe and healthy.
---
Monday 23rd March 2020 
New Buckinghamshire Council Launch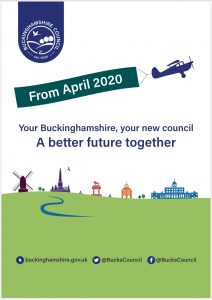 With a week to go until the new Buckinghamshire Council launches, we wanted to provide you with some further information around the formation of the new council. The below document will hopefully provide  the relevant information and answer any questions you may have.
Buckinghamshire Council Information Leaflet
---
Friday 20th March 2020  
2020 Local Elections and Parish Council Elections Update
As you may be aware, all local elections have now been postponed until May 2021 due to the Coronavirus Pandemic. This includes the new Buckinghamshire Council which will continue from the 1st April with the shadow cabinet and the current councillors.
At the time of writing this, we do not know whether Kingsbrook or Broughton Hamlet will remain with Bierton Parish Council or go on their own as planned. It could be difficult with no elections.
We will keep you updated and ask for your patience and understanding at this time.
---
Thursday 19th March 2020
Coronavirus Community Support
---
Tuesday 18th February 2020                                                                                                          Bierton CE Combined School Nursery Applications