Bierton with Broughton Parish Council
10 Leighton Road, Wingrave, Buckinghamshire, HP22 4PA
07932 738733 – parishclerk@biertonvillage.org.uk
---

---
Latest News
Tuesday 24th March 2020  
Village Update in Response to the Prime Ministers Coronavirus Update
Following the Prime Ministers announcement last night and the new measures taken to combat the Coronavirus pandemic, the childrens playground on the recreation ground will be closed with immediate effect.
Both the Sports Centre and Jubilee Hall will remain closed, however the recreation ground will remain open and accessible for exercise purposes only. Unfortunately the new Community Library, located at the bus stop opposite the Red Lion pub has also been closed to help stop the potential spread of the virus. The library will be reiated once we are allowed to do so.
Parish Council meetings have also been postponed for the next 12 weeks. The annual meeting of the council has also postponed and a new date will be advised in line with government advice.
On a more positive note, there seems to be many rainbows popping in windows around the village as a sign of hope. Please do join in! If you have any other  on how a little bit of joy can be spread amongst the community at this time then please dont hesitate to share your ideas. We would also like to thank those helping others in community at this time.
Please follow governmental advice. Stay at home wherever possible. Only shop for essential food items and medicines when necessary and as infrequently as possible. Whilst one form of exercise is permitted a day, please ensure any exercise is done alone or with those in your household only.
 The Parish Council send their best wishes to all Parishioners. Stay safe and healthy.
---
Monday 23rd March 2020 
New Buckinghamshire Council Launch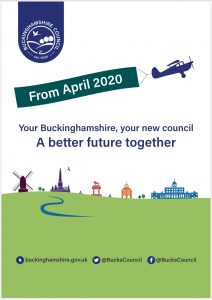 With a week to go until the new Buckinghamshire Council launches, we wanted to provide you with some further information arounthe formation of the new council. The below document will hopefully provide  the relevant information and answer any questions you may have.
Buckinghamshire Council Information Leaflet
---
Friday 20th March 2020  
2020 Local Elections and Parish Council Elections Update
As you may be aware, all local elections have now been postponed until May 2021 due to the Coronavirus Pandemic. This includes the new Buckinghamshire Council which will continue from the 1st April with the shadow cabinet and the current councillors.
At the time of writing this, we do not know whether Kingsbrook or Broughton Hamlet will remain with Bierton Parish Council or go on their own as planned. It could be difficult with no elections.
We will keep you updated and ask for your patience and understanding at this time.
---
Thursday 19th March 2020
Coronavirus Community Support
---
Thursday 19th March 2020                                                                                                                                    
A418 Traffic Delays in Bierton
The A418 at Bierton will be closed overnight for four nights, starting this weekend (Friday 20th until Tuesday 24th March) at Hulcott Turn from 7pm until 5am on both days. Diversions will be in place.
These are necessary works on the Eastern Link Road.
Mark Shaw, Buckinghamshire County Council Deputy Leader and Transport Cabinet Member said:
"Very reluctantly, we've agreed to the request from Barratt's contractors, to enable them to finish the job. I do appreciate this will inconvenience drivers, and I apologise for this… We're expected contractors to be working continuously, to make the best use of the time, and our highways officers will be monitoring the siutation closely."
Jo Alden, Technical Director at Barratt and David Wilson Homes North Thames, said:
"We would like to apologies to all those that may be affected by this change and offer our assurance that when in operation, the traffic light signals will be permanently manned in order to minimise disruption caused."
The planned diversion route is below;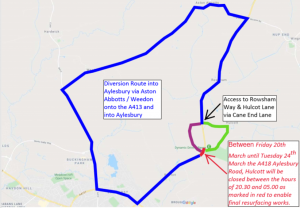 ---
Wednesday 18th March 2020                                                                                                          Bierton Bus Stop Library
The Bierton Bus Stop Library is now open. It is small at the moment but will hopefully grow!
It can be found at the bus stop outside St James' Church. Please add to it, swap and borrow books as you please.
---
Tuesday 18th February 2020                                                                                                          Bierton CE Combined School Nursery Applications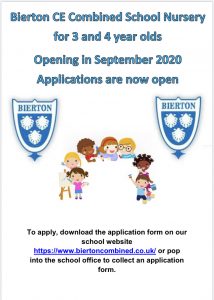 ---
---