To the motorist driving along the A418 into Aylesbury, Bierton often seems a bit like "a sprawling bottleneck"  but this, of course, is a poor reflection on the true character of the place.
The present day Bierton consists of three distinct areas, Bierton, Burcott and Oldhams Meadow.
Bierton
Up until the middle of the last century the village of Bierton was concentrated mainly around the area of the Church and St. Osyth's Well with a sparse collection of farms and other buildings along the Aylesbury Road up to Grove Farm. At that time, the road out of Bierton followed what is now Rowsham Road. The lax planning regulations of the early to mid 20th century allowed development to spread almost up to the boundary with Aylesbury and in-filled most of the agricultural land up to the Hulcott turn. Bierton now extends for a total distance of approximately 1.1 miles.
Nevertheless, in spite of its proximity to Aylesbury, Bierton works hard to preserve its individual character. It has a rich heritage to be proud.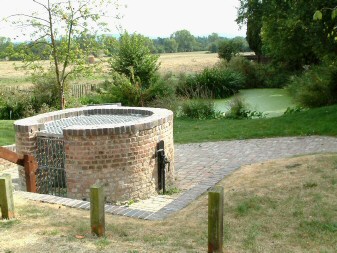 One of the oldest surviving features is St Osyth's Well, shown here in its recently restored state and described in detail on its own page.
Until the 1970s there were three churches in Bierton, today there is just one, the Parish Church of St James The Great. There is also only the one school, Bierton Church of England Combined School.
The Sports Centre provides facilities for various clubs and the Jubilee Hall, now run by the Paris Council, is used regularly for amateur dramatics and various other functions, as well as being available to hire by local residents.
Burcott
Burcott was once a small cluster of houses at the place where Burcott Lane turns sharp right towards Broughton. Now, the two villages have grown towards each other and are virtually continuous.
Oldhams Meadow
Oldhams Meadow is the most recent development within the civil parish, consisting of 169 houses. Whilst geographically in the constituency of Ayelsbury, it resides within the parish of Bierton with Broughton.